Smartflow Velox: Bringing your imaginations to life
Imagine a world with an innovative technology solution that can eliminate most of the human-related sharp practices associated with fleet fueling, as well as, give small, medium and large fleet business owners the ability to remotely monitor and control their fleet fueling activities in real-time.
Imagine being able to get absolute authorization control of your fleet's fueling activities, from the exact volume of fuel that should be dispensed to the exact volume that was dispensed, the time it was dispensed and even the nozzle that made the sale.
Imagine the ease of getting accurate reports delivered to your email and a web interface that presents real-time data on your fleet fueling activities, with smart KPIs in interactive graphs and charts providing room for seamless monitoring and reconciliation.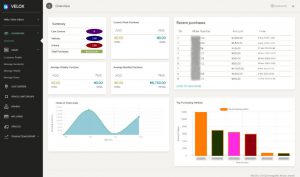 Imagine the possibility of eliminating most human-related sharp practices with an additional benefit of identifying and blocking any unauthorized fueling.
Imagine the potential of doing all these conveniently from one platform on a smartphone, tablet or PC.
Welcome to the era of Smartflow VELOX!
Let us bring your imaginations to life now!!!
Contact sales@smartflowtech.com for more details on the Smartflow Velox and get on board!