5 IMPORTANT FACTORS TO CONSIDER WHEN SETTING UP YOUR RETAIL FUEL STATION
The retail fuel station business is a very competitive one because fuel is always in demand. You are probably considering going into the retail oil and gas business or expanding your already existing fuel business.  Either way, we have highlighted very important information you should take note of when setting up your fueling business.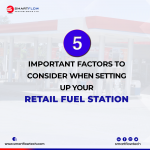 We will be talking about what you should look out for when considering what type of equipment to use in your facility; from the dispensers and pipes to the storage of your tanks, and eventually how you can monitor your investment effectively for optimal progress.
      Dispensers
There are many brands of fuel dispensers out there with unique features for each brand. Here are some points to consider when choosing what brand of the dispenser to invest your money
–   Cost of Maintenance: The cost of maintenance is an integral part of a purchase decision for anyone who desires to go into the fuel retail business. The best choice is a dispenser with low-cost maintenance and these depend on the following key feature; Asset Protection ( Latest Meter, Improved GPU, washable filters, and the durability of consumables.
–   Reliability of the Dispenser: It is very important that you choose dispensers with tamper-proof security on multilevels that have irreversible totalizer counters that will automatically stop dispensing at any attempt of a bye-pass. This is key when thinking about ROI in the fuel retail business.
–   Invest in smart pumps: Data-driven sales have proven to be the way forward as this enables the owner of the business to make informed decisions through real-time sales monitoring which can also be reconciled with the wet stock inventory report of the fuel station. 
      Piping System: 
In choosing your piping system, here are some points to consider
–   Corrosion / Rust Resistant. Most galvanized pipes tend to rust after some years of installation, thereby polluting the environment and making it unsafe. We recommend you go for corrosion-resistant products such as the HDPE pipes.
–   Cost of Installation / Maintenance. Another advantage of the HDPE pipes is that it is easier, quicker, and cheaper to install. Its no corrosion feature makes it last longer underground compared to the galvanized pipes, hence reducing your cost of maintenance
–   Are the pipes conductive? Non-conductive pipes allow static electricity build-up that could lead to fire and subsequently, an explosion at the forecourt.
      Storage Tanks:
Most retail fuel stations use the underground storage system for the storage of fuel. Two important things to consider before storing fuel in the underground tank
–   Ensure that you carry out a leak detection test, to detect the presence of possible leaks in the tank
–   Calibration & Cleaning: The calibration is important to know the exact volumetric capacity of the tank while the cleaning is done so as to get rid of unwanted substances in the tank that might end up contaminating or affecting the quality of your product.
      Automation (Remote Monitoring): 
The retail fuel business entails a lot of inventory like totalizer reading capture, attendant shift reconciliation, wet stock inventory, product sales, fuel station miscellaneous expenses, etc. With all these, an end-to-end automation solution is recommended that will monitor tanks and pump transactions in real-time.
Tank automation: Three key solutions must be considered;
a) Product Delivery to the tanks at the station.
(b) Consumption trends from each tank in the station. 
(c) Wet stock inventory report on tank transaction.
Dispenser automation: Sales and transactions on each nozzle should be captured in real-time. The station owner should be able to know the volume sold and the expected cash return in real-time for every day of business.
To help consolidate the profits made, the automation of the dispensers should provide the following solutions
(a) The ability to change pump prices remotely (save on the cost of manpower & logistics)
(b) Customer buying behavior
(C) the Health of each dispenser
(D) Generate sales report
(e) Handle local expenses at the station ( station manager).
      Branding: 
The easiest way to leave a good impression of your brand is through the branding of your equipment. A clean forecourt with great branding would always attract lots of customers.
(read more here: https://www.smartflowtech.com/products-and-services/)