DOLAPO ADEYEYE, FORMER MD/CEO HANDS OVER POSITION TO BECOME THE TECHNICAL DIRECTOR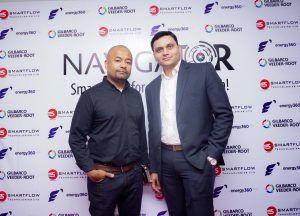 Smartflow Technologies has grown well over the years, its service and product portfolio have evolved and its staff strength has increased. In order to further the company's growth to greater heights, Dolapo Adeyeye (founder of Smartflow Technologies Ltd) has stepped down from his role as the MD/CEO and has fully taken up the position of Technical Director. It has always been his dream and passion to develop, grow and lead the technical department in Smartflow to the highest levels of world standard engineering, innovation, safety and professionalism.
Smartflow's new Managing Director, Mr Milin Shah is a well-seasoned professional with a great balance of commercial and technical attributes to help deliver in his new job. Over the years, Milin has done a great job as the GM Sales and Marketing in Smartflow. He's had over 10 years of experience in Mid and Down Stream Oil and Gas industry with excellent technical and managerial skills.