Inventory Control
From the storage tanks to the metered dispensers, Smartflow's Lubrication Management System will capture and monitor every bulk fluid transaction. With user-defined security levels, you can manage access and ensure accountability for every fill and dispense. The supervision of your inventory will become a worry-free operation.
Shop Efficiencies
The high flow dispense meters will reduce dispensing time and help your throughput. These intelligent dispense meters move data processing power out to the service bay for paperless transactions and dispense record generation. You'll limit the time-consuming interaction between parts and service departments and improve your fixed operations performance.
Accurate Accounting
Across the organization, from the accounting office to the parts room, every department is able to access and share the dispense data created by our Lubrication Management System. This data can be leveraged to ensure every quart or pint is accurately accounted and billed.
Wireless:
High frequency wireless transmission for optimal coverage and signal strength
2.4 GHz radio platform approved for use world-wide use with CE, FCC, C-Tick, IC approvals
Capable of capturing dispense data from "roll-around" tanks
PC Based:
Easy to install Windows PC-based operating systems
Compatible with XP, Vista, Windows 7 and Windows 8 PC platforms and Windows 2003 and Windows 2008 (R2) server platforms.
Automated:
Real-time monitoring and feedback of your operation
Event logs provide time and date stamp of every event
Scheduled e-mail notification on tank levels
Pop up alarms or messages for tank levels, low batteries and other user-defined events
Lube and Grease Pumps


Stay ahead of the competition with the latest product solution from Graco Lubrication – the LD Series Pump. The affordable and full featured LD is designed for lower volume applications and available in the 3:1 and 5:1 for oil and 50:1 for grease. These pumps are fine-tuned for a compact, flexible and still incredibly durable solution. All LD package meters come standard with trigger guard, loose boot and automatic nozzle.
Features
Three Inch Air Motor – provides more power to create better flow
NXT Air Valve – Designed to reduce icing in continuous use application s and uses less air than competitive pumps for better efficiency. Easy to repair or replace without tearing down internal pump components for less downtime.
Modular Air Valve – Air inlet and exhaust locations are easy to configure with just four bolts for simple, hassle free installations
Built-In Thermal Relief and Inlet Strainer – Built in thermal relief protects your equipment from thermal expansion without the need to buy and install an additional kit. Inlet strainer protects your equipment from thermal expansion without the need to buy and install an additional kit. Inlet strainer (oil only) is built-in to protect pump from containments that can damage your pump.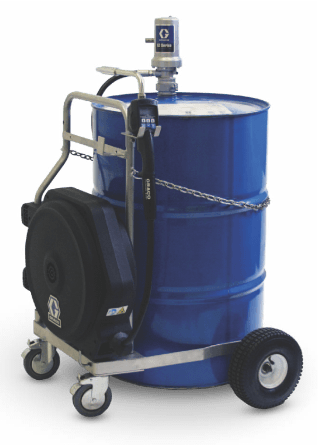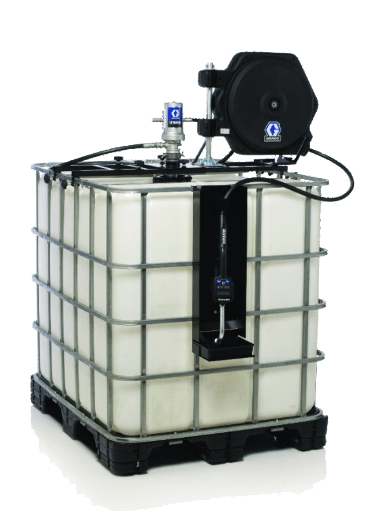 Typical Fluids
Lubrication Grease
Petroleum and Synthetic Motor Oil
Hydraulic Oil
Gear Oil
Automatic Transmission Fluid
Undercoating and Rust-proofing
Typical Applications
Lubricant Transfer
Automotive dealerships
Fast lube centres
Service shops
Lube trucks
WATER PIPING & AUTOMATION SOLUTION
Today, piping systems are more high-tech and automated than ever. With environmental regulations becoming more strict and energy and other utility costs rising, industries rely on automation to monitor and control their processes to ensure efficiency, safety and legal compliance. Smartflow offers Signet line of controllers, sensors and analytical instrumentation. in addition to the Signet instrumentation line, we offer a comprehensive line of actuated valves that complement the instrumentation and complete the entire system.
Transmitters: Signet transmitters are ideal for more monitoring and controlling various measurements such as flow and pH. The transmitters are available with a display for local readout and can be directly connected to a PLC, metering pump or actuated valve for advanced monitoring and control.
Actuated Valves: Whether for a simple on/off or a complicated throtting application, Smartflow has a comprehensive line of actuated valves that are designed to provide precise flow control. Smartflow can also provide customised solutions such as incorporating specialty actuators on to our valves.
Manual Valves: Smartflow offers a complete line of manual valves including ball, butterfly, diaphram, globe and check valves. Available materials include PVC, CVPC, ABS, PVDF and PP
Sensors: A wide range of measuring devices are available including low pH, conductivity, ORP, pressure, turbidity, chlorine and dissolved oxygen. In addition, fittings are available to place sensors in the optimal location within the piping system.
PRV (Pressure Regulating Valves): Available as pressure reducing valves or pressure retaining valves, the wide array of available materials and configurations provide flexibility in choosing just the right valve.
Rotameters: Rotameters are ideal for simple and accurate flow measuring. The offering is designed to be compatible with our piping systems matching materials and chemical resistance. The rotameters are offered in high purity version and can be configured to have electrical feedback.