HDPE PETROL PIPE
Smartflow distributes and installs the KPS Petrol Pipe for all kinds of liquid petroleum products. These flexible plastic pipes are the most advanced and installer friendly piping system available for use on filling stations and allied fuelling locations. These pipes can serve for any of the following uses;
Product Transfer
Remote fill
Pressure and Suction Lines
Ventilation
Conduits
Vapor Recovery
In addition to their large spectrum of usage, they have the following advantages over other plastic and metal piping systems;
Up to 30 years warranty for all pipe products
It is a much safer product as it has conductive (dissipative) lines that prevent static electricity build-up. Electrostatic build-up can cause fire, and subsequently explosions on the forecourt. With KPS pipes, this risk is ZERO!
With zero permeation of hydrocarbons, KPS piping keeps fuel where it is supposed to be.
KPS pipes are much easier, quicker, and cheaper to install
Better Performing Equipment Due to the absence of Corrosion / Rust
There are two variants of the KPS Petrol Pipe;
Single Wall Petrol Pipes
Double Wall Petrol Pipes
---
Single Wall Petrol Pipes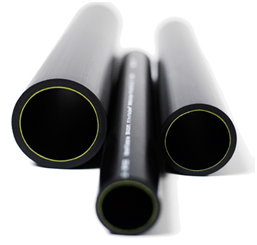 These are single pipes that come in small to medium dimensions suitable for all forms of station piping requirements, for sizes up to 110 mm (4 inches).pipes suitable for fill lines at filling stations.
The single wall notwithstanding, these pipes have a highly reliable and effective permeation barrier that keeps fuel from diffusing through the pipe wall making permeation basically non-existent. These pipes also required conductive lining to prevent static build up thus guaranteeing a basic but important safety requirement.
The single wall pipe has requisite approvals in place.
---
Double Wall Petrol Pipes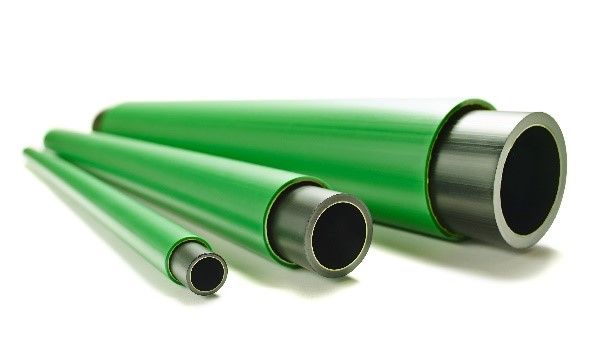 These are single pipes that come in small to medium dimensions suitable for all forms of station piping requirements, for sizes up to 110 mm (4 inches).pipes suitable for fill lines at filling stations.
Due to environmental demands and legislation, the double-wall pipe system was designed and introduced.
In the double-wall pipe system, the primary, inner pipe is the same high class pipe as for single wall solutions, surrounded by a slightly bigger secondary pipe. Thus the space between the pipes can be monitored to make sure no leaks occur from the primary pipe.
The double-wall system from OPW/KPS is the market leader and meets any such requirement as desired by a user.
---
LPG Pipes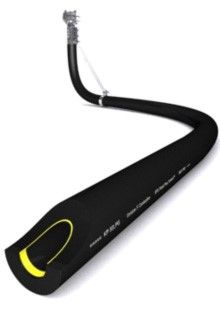 The growing use of LPG, or Liquefied Petroleum Gas, necessitated the development and deployment of LPG plastic pipe. KPS in driving the market introduced the world's first plastic LPG pipe system.
The KPS LPG pipe is made of high-density polyethylene or HDPE and designed for the high pressures used in LPG distribution.
It was designed to handle pressures up to 25 bars and was actually loaded under test conditions to 40 bars. This LPG pipe meets the high standards of safety in the LPG industry.
It has a permeation barrier and a conductive plastic liner, and this ensures that there will be no permeation of the hydrocarbons and that static electricity can dissipate safely.
The advantages of the LPG pipe from KPS are;
No corrosion. Unlike steel pipes that may corrode both inside and outside, the KPS LPG pipe does not corrode thus does not release harmful particles into dispensing equipment or leak into the soil or atmosphere.
10 years warranty on the pipe
KPS provides a 10-year warranty for corrosion resistance of the LPG pipe. You cannot find this anywhere else and from any other LPG pipes.
Quick and easy installation. Despite the pipes' innate strength, toughness, and rugged performance, it is a semi-flexible plastic pipe, which can be rolled out easily into the trenches at the point of installation and afterward connect to tank and dispensers. The pipe can be bent on-site and guarantees that no arc welding or complicated installation procedures are needed.
Installation can be completed in less than one day!!!!
Lower cost and higher return on investment. Product and installation costs are kept at a minimum with the LPG pipe. Since the estimated lifetime of the pipe is over 30 years, these pipes provide a lower total cost of ownership and higher return on investment than any other LPG pipe on the market.
Smartflow supplies and utilizes quality KPS fittings as joints and connections in our highly reliable flexible plastic pipe system. These fittings maintain and retain the benefits from the pipe system while ensuring connection/entry to various openings.
The available fittings include;
Welding Sockets
Bends & Tees
Transition Fittings
Entry Seals
---
Welding Sockets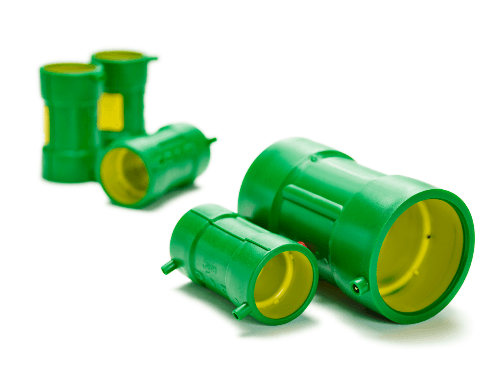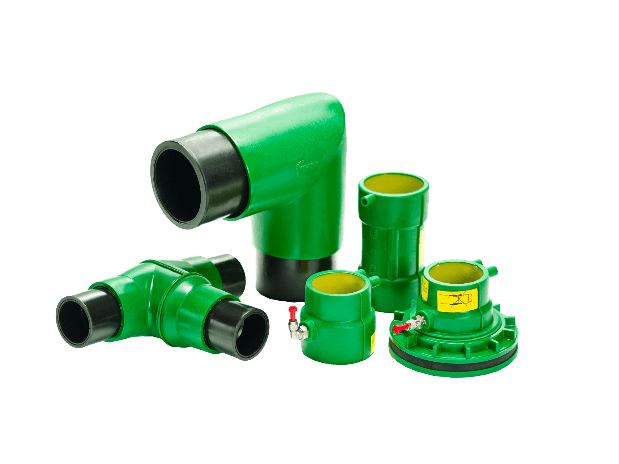 KPS welding sockets are high quality, top of the range fittings that are easy to use while providing compact installation solutions. There are sockets for both single wall and double wall pipe systems with installation for both being done in a single run.
The welding sockets are continuously tested and loaded under pressure in conjunction with pipes to guarantee their performance and strength remain up to standard.
---
Transition Fittings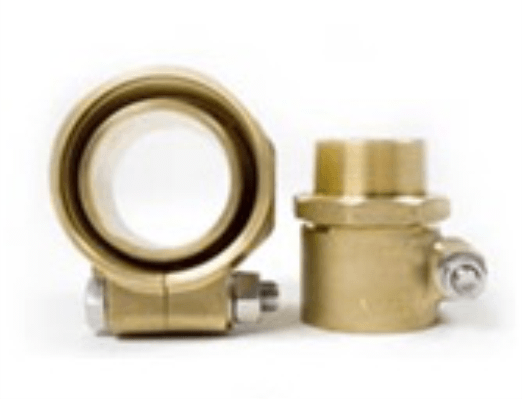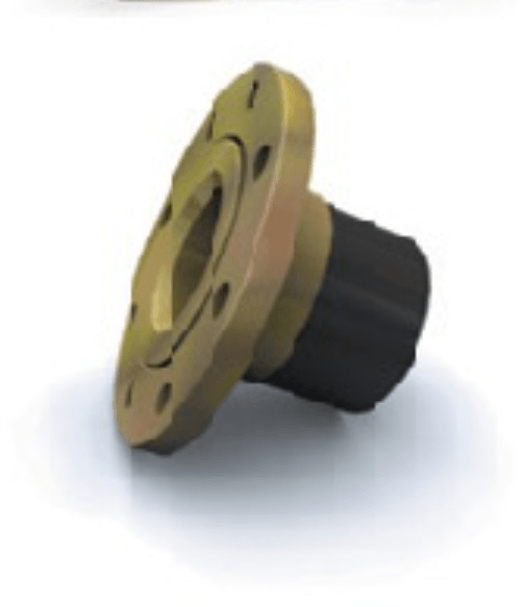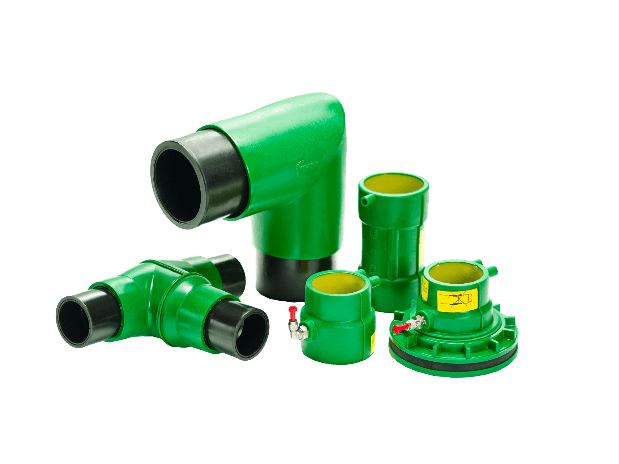 With the understanding that there will be a need to connect to other pipe materials and configurations, KPS has available several plastic-to-steel transition fittings. These fittings allow for the safe connection of the pipes to tank manhole covers, dispensers, ventilation stacks, and fill points.
The transition fittings range includes special flanges, threaded plastic/steel fittings, DIN flanges with plastic stub flanges, and various types of compression fittings. This ensures that the right solution to particular local needs and standards on sites and by installers are found and met.
---
Bends and tees
Although KPS pipes are flexible and can create field bends on their own, KPS has specialist bends to be used in tight spaces. KPS also has tees for collecting or dividing flow.
These bends/elbows and tees guarantee the same compactness, superior flow, and zero permeation as the KPS pipes.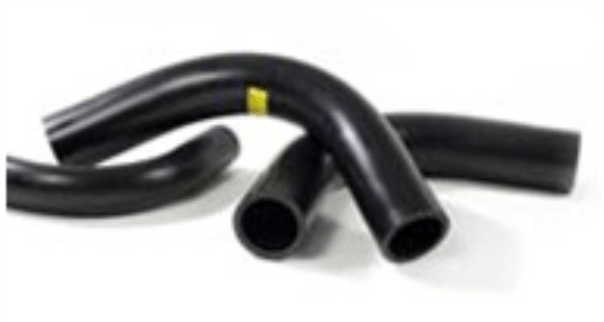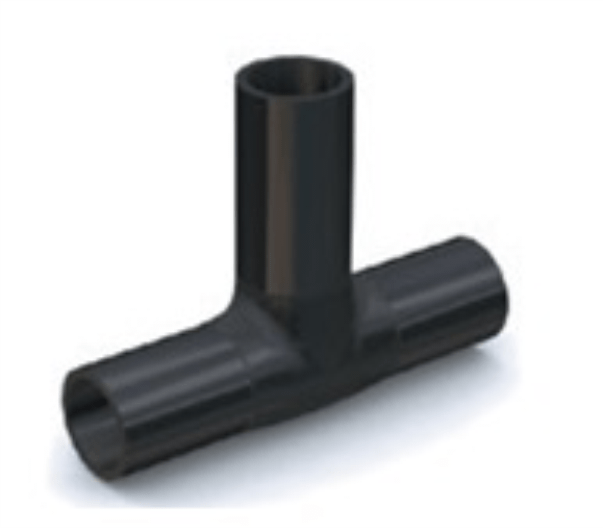 Entry Seals
Given the need to ensure and guarantee tightness and snug-fits at pipe entry points into tank chambers, underground fill boxes, or dispenser chambers, KPS/OPW developed and manufactures entry seals. These seals ensure that water does not enter into these chambers elongating the lifetime of steel fittings and making inspection and maintenance easy.
This range of entry seals can be utilized in both even and uneven chamber walls. KPS seals can also be used for electrical cables and ducts!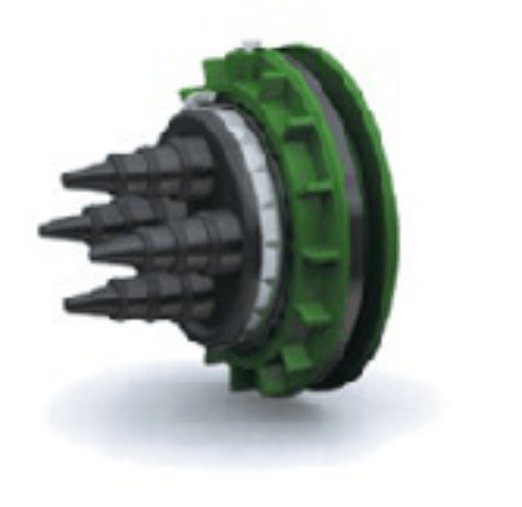 Covers and Containments
In line with growing technology that places importance on sustainability, ease of use, quicker construction times, and a lower weight to strength ratio, OPW through her business units has designed and deployed high quality GRP composite covers and containment systems. Being the first to manufacture these product sets, OPW is no doubt the market leader in composite covers and containment systems.
These covers and containment systems find use in the following applications/industries;
Retail Fuelling
Factories and Plants
Water and Drainage Systems
General Construction: These covers and containment systems have a whole lot of benefits/advantages over the standard options, some of these include;
High strength: Load ratings from 1.5 to 90 tons
Standard duty covers tested to exceed H20 load rating standard
Heavy duty covers tested to exceed H25 load rating standard
Tested to BS EN 124
Bespoke and custom made trench covers
Maintenance free
Wide range of sizes, colors, and shapes
Impervious to most chemicals
Lightweight – no lifting injuries
Will not corrode, crumble or crack
Sealed manhole covers are water and odor tight
Excellent insulator against heat
The non-metallic design eliminates the possibility of theft
Anti-slip / anti-static surface
Ergonomic removal and replacement with lifting handle
The incredibly durable monolithic structure will not delaminate
Locks available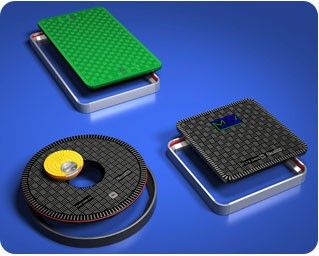 MANHOLE COVERS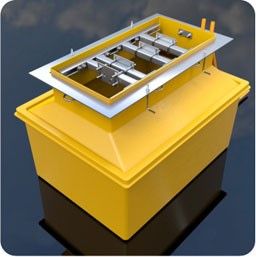 PUMP/DISPENSER SUMP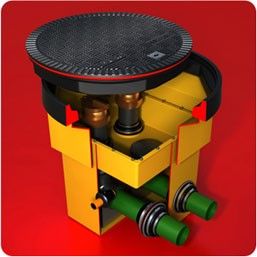 OFFSET/REMOTE FILL CHAMBER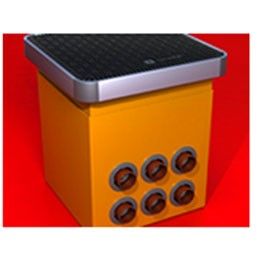 UNDERGROUND COLLECTION CHAMBER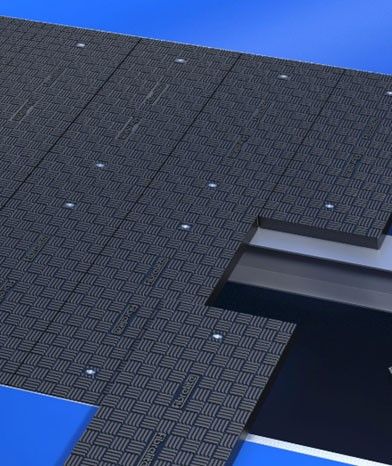 TRENCH COVERS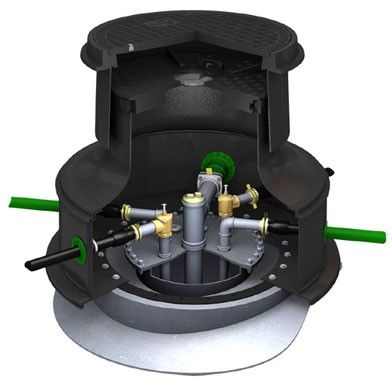 TANK MANHOLE CHAMBERS