Fuel Pumping Solutions
Confidence comes standard with all Smartflow Fuel Pumping Equipment because as the leading experts, our fuel dispensers deliver proven reliability and profitability. Upgrading your fuel pump is a smart investment that pays off in the long run, so our automated fuel dispensers are designed to maximise that long-term investment.
Whether you are looking to freshen up your forecourt, offer flexible fuel or optimise your fueling operations, Smartflow Technologies has the perfect solution. See which one works best for you.
Pumps and Dispensers
Smartflow supplies, installs, supports and provides maintenance services for Gilbarco Veeder-Root Pumps and Dispensers.
Gilbarco Veeder-Root is the global leader in the design, development, and manufacturing of Service Station Equipment (SSE). This ensures that Gilbarco pumps and dispensers deliver best-in-class performance and reliability, outlasting peers by a large margin. Gilbarco pumps support and promote both retail and commercial fuelling operations, with efficiency and effectiveness as unwavering baselines.
Latitude Fuel Dispensers

The Gilbarco Veeder-Root Latitude dispenser is a perfect blend of enhanced performance and sleek design that will draw vehicles to your station. Its innovative features are designed to make functioning easier and help you increase profits at your station.

Here's what makes LATITUDE the best solution for station owners looking for a better, new-age dispenser.

EasyView display to reassure customers they're getting exactly what they've paid for. The bold and clear display increases customer trust and turns them into loyalists.
Opti-flow Hydraulics give a 10% increase in suction lift and a 7% increase in average flowrate.
Powersafe Electronics that minimize dispenser breakdown.
Unparalled Security. The Latitude fuel dispenser is tamper resistant with a series of features like intelligent electronic boards that communicate with each other over secure protocol and do not allow any foreign components to tap into them. The industry-recognized Gilbarco Veeder-Root SIP pulsar stops fueling for any pulsar lift-off scenarios.
The LATITUDE fuel dispenser's design positions user interface components like keypad, hose, nozzle, etc. at an ergonomic height and location suitable for hundreds of operations throughout the shift. The more comfortable your employees feel the more profit they generate.

TECHNICAL FEATURES

Flowrate Options: Standard & High Flow
Delivery Speed: 40 – 50 L/Min for standard flow and 70 – 80 L/Min for High Flow
Easy Hose with Non-obstructing Money Volume Display View
Pump Stop Option
Curved Canopy
Gilbarco HD Meter with non-obstructing Money Volume Display View
Secure filter with lift-off detection
Washable Pump Filter
Washable Meter Filter
High Contrast LCD Display with direct sunlight readability
12 Digit Totaliser (Cumulative & Daily)
Electronics Power Supply
Ticket Printer (Option)
Motor Over-voltage Protection
Electronically Adjustable Flowrate (Option)
Matrix Keypad (with 4 + 4 pre-configured buttons)

---

Horizon Series

Horizon pumps and dispensers are flexible and reliable. Horizon is a solution for your forecourt needs, built to last in the most challenging of environments. Every Horizon component is engineered and constructed for reliability and longevity, saving you money.

Features

Leading Reliability: Robust Electronics, Meter accuracy and flow optimisation
Timeless Image: Wear-resistant surface area stays fresh and longer to reduce the costly expense of rebranding
Unparalleled Security: Enhanced dispenser security gives customers exactly what they pay for while fuel variance savings reduces theft.
Nozzle Boost: Nozzle boost is designed for prolonged nozzle life
Reinforced nylon material absorbs shock and lasts for a long time
Nozzle boost enables more secure stowing (reduce drops that damage nozzle tips
Optional integration of Applause Europe multimedia allows you to display in-store promotions or third party advertisements to increase sales
Host video or an image over a LAN connection or USB connection
Add colour coded grade selection for a more intuitive user-experience
Dependable electronics
Tested at -20C to 55C.
No information lost during power outages
Secure Interface Pulser (SIP)
Chip identification with supporting electronics
End-to-end encryption
Lift-off detection
---
Encore Series

Encore S pumps and dispensers are high grade and top quality products that bring a whole new range of functionality and prestige to the Service Station Forecourt.

Manufactured in United States of America, Encore S takes fuel dispensing to a whole new level with the ability to do much more than selling fuel. Encore S will deliver improved margin, increased loyalty, and smoother operation—today and in the years to come, due to its design and functionality.Features

Leading Reliability: Robust Electronics, Meter accuracy and flow optimisation
Great Flexibility: Colour screen, more than two hoses per side prevents misfuelling
Timeless Image: Wear-resistant surface area stays fresh and longer to reduce the costly expense of rebranding
Unparalleled Security: Enhanced dispenser security gives customers exactly what the pay for while fuel variance savings reduces theft
---
Frontier Series
Frontier consists of a range of extremely efficient, rugged, reliable and high performing pumps and dispensers that maintain and provide a highly immaculate visage on the forecourt.
Frontier pumps are manufactured in GVR's centre of excellence in India and have been deployed in various locations, even those with extreme operational and weather conditions in Europe, Asia and Africa.
Frontier Series 1 Pumps & Dispensers (Frontier F210 & F210-FN)

The new Frontier Series 1 offers functional and reliable high hose and low hose models in single and dual configurations. Available as suction pressure type, they use rugged Gilbarco global components making them dependable even in harsh field conditions. They are offered as Standard Flow-40LPM and High Flow-80LPM options.

Key Features

Standard GVR Meter
Global Suction Unit
1HP Motor
Wide Voltage Band 180-250V
Wash-N-Use SS Filters
6-6-6-Sale-Vol-PPU Display
Cold Rolled Steel Sheathing and Panels
High Hose Elevation 2.1 Meter
Pre-set Pin Pod with Display
Add-On-Oval Canopy Option
4KV Electrical Noise Resistance
Standard Flow-80LPM
Transaction Logs
Sole Round-Up, Floating Sale Decimal
Hand Crank Option for Low Hose
ATEX & OIML R117/118 Certified
34 Crates in Standard 4ft. container
---
Red Jacket Submersible Pumps
The Red Jacket is a fixed speed submersible turbine pump that optimizes fuel flow to your dispensers. Its motor performance deliver. It has higher flow rates than any other motor in the industry. It features Red Jacket's advanced packer manifold design, making it the industry's easiest and safest STP to install and service.
Available in ¾ HP to 2HP configurations and fixed or variable quick set lengths.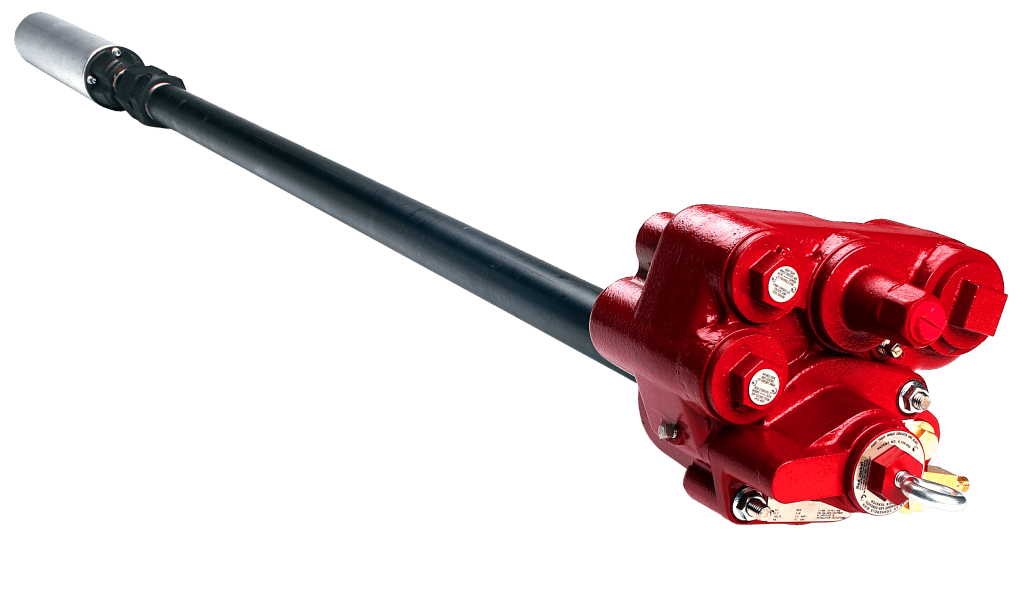 Key Features

Superior motor design delivers higher flow rates, lower power consumption and increased safety and reliability
Advanced Packer Manifold delivers automatic fuel drain and electrical disconnect for increased site and environmental safety
Die springs break the extractable seal for easier lifting of the extractable
Check valve and manifold enable easier line design enables easier line tests and servicing
AG Model available for 90% Ethanol concentrations or up to 100% Methanol concentrations
---
Mini Dispenser Pump
This Mini Dispenser is suitable for non-commercial use. It is a very simple solution for dispensing that can be adapted to different sectors such as Agriculture, Logistics, Mining, Construction, Automotive and other industries etc..
Key Features
Flowrate: up to 100l/min
Self suction with self-adjusting blades
Epoxy paint finish
Access control, transmission of dispensed data to the cloud (optional)
Can be installed on islands, walls and on trucks
Diesel and Petrol application
---
Centrifugal Pump Series
Smartflow's offer high-quality transfer pumps that can be used for both petrol and diesel. These pumps are widely used in a range of industries, including Mining, Transportation, Construction, Agriculture, Manufacturing and more.

Key Features
Centrifugal pump suitable for petrol and diesel transfer.
Comes with a thermal protector.
Its compact size allows for operation in confined spaces with minimal spatial requirements.
Durable design for long-term use.
The transfer is quick, uniform and inaudible
The pump has built-in bypass valve.
---
Nozzles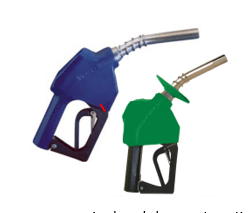 The OPW 11® Series automatic nozzles are OPW's premium conventional nozzles for safe retail and commercial petroleum filling. The OPW 11® Series is the most trusted conventional nozzle in the world for full service use. The OPW 11B® series is designed for use in retail and commercial filling applications including pre-pay, self and full-service, credit/debit card readers or card-lock systems to help prevent gasoline spills. The OPW 11B® will not open until the pumping system is pressurized, and closes automatically when the pressure is removed.
Features & Benefits
Safe for Use
Prevents gasoline spills in prepay or card-lock systems utilizing OPW's unique No Pressure – No Flow Device. The nozzle cannot be opened until the pumping system is pressurized and closes automatically when the pressure is removed.
Prevents customer from jamming the nozzle in an open position – Blocker on lever guard. FlowLock™ allows nozzle to shut-off when falling out of a vehicle, and tipped up limiting spillage and unsafe conditions
Durable & Long –Lasting Design
Cycle-tested and proven to last longer than 1 million cycles – Better than any other nozzle available on the market today.
Durable lever guard that won't scratch your customers' vehicles
Appealing to Customers
Easy to use
Attractive 2-piece Newgard™ Hand Insulator is the most comfortable nozzle in the industry to use.
Convenient – One fingerhold-open clip that is easy to set the flowrate
DOWNLOAD FUEL PUMPING SOLUTION BROCHURE