Digital Control Valves
The Digital Control Valve consists of a valve tubed with two solenoid valves. The solenoids are configured in normally open & normally closed position. These solenoids are connected to electronic batch controller. The batch controller provides signal to carry out two functions. Multistage opening & closing function to get smooth flow control, and precise batch quantities during loading operation of loading racks, Bulk Plants or processing installations.
The Digital Control Valve are hydraulic, diaphragm actuated control valves. The "Y" type globe body is a hydro dynamically balanced design for high flow rates, minimum head loss and maximum cavitation resistance. The valve body includes a full bore removable seat provided with a bottom guide rib for maximum assurance of complete valve shutoff. The entire actuator assembly may be removed as a unit using only simple common hand tools. The diaphragm actuator and trim provide smooth, accurate and controlled operation assuring bubble tight shut offs.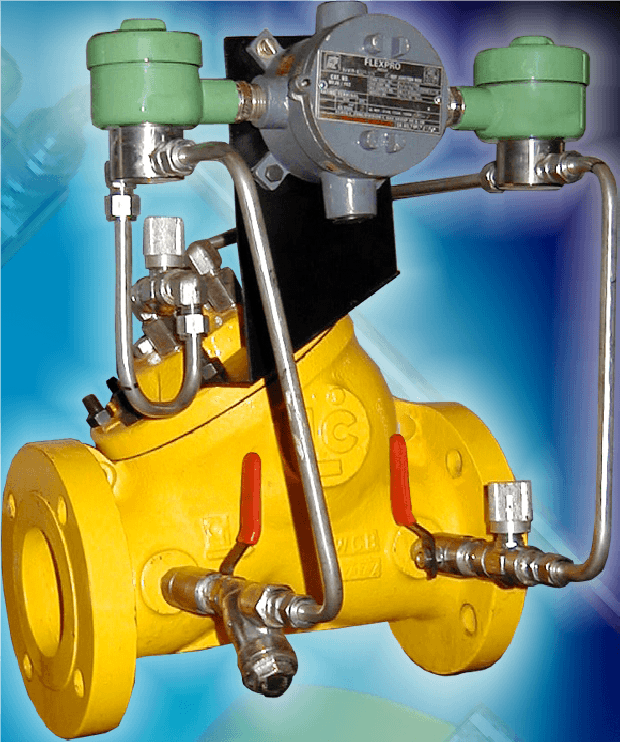 Features
"Fail safe" to close design
Easy maintenance with on line servicing
Bubble tight shutoff as per ANSI B16.104
Low pressure loss
High C value size 80 mm =148, size 100 mm = 204 v
Horizontal/vertical installation
All critical parts are imported
All trim, tubing, fittings and accessories are Stainless Steel for superior service.
Compact, robust design
Thermal relief downstream to upstream standard and upstream to downstream optional
Opening and closing speed control with position locking
40 mesh strainer, externally removable for cleaning, a standard feature
Explosion proof junction box with standard terminal block
Optional manual override feature
Ideal for loading rack and bulk metering applications.
Optional Limit Switch for Position indication.