SPECIALISED AVIATION OFFERING
With key years of experience, expertise and competencies gathered working with/for aviation industry leaders, Smartflow has honed distinct yet robust aviation capabilities as shown in the image below.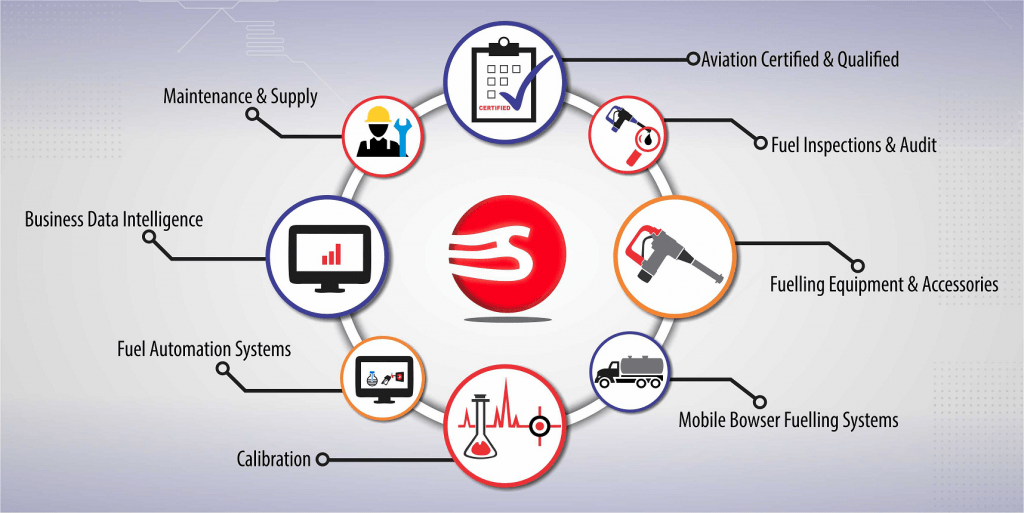 INSPECTIONS AND AUDIT
Smartflow is certified and has well trained/experienced Inspectors that can perform onshore/offshore inspections (daily, weekly, monthly, quarterly, 6-monthly and yearly) on hydrants, mobile bowsers, tanks, Filter water separators and tank farms. Smartflow can audit its client's facilities or represent its clients in auditing 3rd party tank farms and suppliers for compliance and supplier assessment.
SALES, REPAIR AND SUPPORT OF AVIATION FUELLING EQUIPMENT AND SPARES
Smartflow supplies, supports and repairs a wide range of aviation fueling equipment, accessories and spare parts, some of which include but not limited to – Nozzles, hoses, connectors, filters, strainers, pipes, pressure gauges, differential pressure gauges, air eliminators, pressure valves, temperature sensors, Filter water separator vessels, flow meters, recovery tanks, pumps, floating suction, hose beads and much more
SPECIALIZED PROCUREMENT
Smartflow is able to interface with OEMs and suppliers on behalf of its clients to spec required equipment, procure, supply and install. Smartflow works with a wide range of OEMs and can supply mobile bowsers, mobile hydrants, pumps skids, military-grade aviation fueling equipment and many other specialized equipment.
MOBILE BOWSER MAINTENANCE
Aside the procurement and supply of mobile bowsers, Smartflow specializes in the maintenance of mobile bowser electrical, pneumatic, mechanical and fuel systems. This includes the PLCs and automation system on the bowsers.
TANK CLEANING AND CALIBRATION SERVICES
Smartflow provides non-entry and man-entry tank cleaning services, using special suits and oxygen fed masks for the man entry cleaning. This also includes 5/10 year tank inspection services.
Smartflow Technologies offers 'wet' and 'dry' tank calibration services for all tank sizes and orientation.
Tank calibration is the process of determining the exact true volume of a tank corresponding to a certain height measurement value. It is the key to obtaining accurate measurements of quantity in bulk storage tanks
Smartflow possesses all requisite DPR and Weights & Measures approvals to carry out these jobs.
EPOXY LINING/COATING
Aviation tanks MUST be either epoxy lined/coated or made out of stainless steel in order to prevent internal tank corrosion which will ultimately affect the quality of fuel. Smartflow is qualified and has the expertise to epoxy coat aviation tanks.
FLOW METER CALIBRATION
Smartflow Technologies offers flowmeter installation and calibration services. Accurate flow measurement not only improves inventory control, but it also impacts aviation as the aircraft fuel load must be very accurate and precise at all times for the various calculations it is used for.
AUTOMATION AND BUSINESS INTELLIGENCE SERVICES
One of Smartflow's key strength is its automation and Business intelligence capabilities. Smartflow installs and maintains automatic tank gauges, automatic flow measurement/control systems, alongside various automation systems, while providing remote monitoring and business intelligence services for same.
PROJECT MANAGEMENT
Smartflow has a team of project managers able to manage small to large and complex aviation fuel projects. We are able to support with tank farm construction, pump sizing, piping, skid specifications/installations, FWS sizing/installation, hydrant specification/installations and much more
TRAINING
Due to the technical complexity/vastness in regards to the subject matter (Aviation Fuel) and the multitude of regulations that guide the operation around it, Smartflow has invested heavily and will continue to do same in knowledge building and consultations with professionals globally.
Aviation Fuel Mgt is highly regulated and these regulations/advisories are ever-evolving. It is important that all our inspectors, staff and clients are trained to the required standards and for the jobs they do. We have a specific document which administers our training needs.