Temperature Transmitter
THERMOCONT field device incorporating Pt 100 sensor is 2-wire temperature transmitter with 4 … 20 mA analogue output or transmitter/indicator if equipped with a plug-in display. Intrinsically safe version of each model is available in ordinary or flame-proof housing. The measured temperature can also be transmitted by Hart communication.
Intelligent electronics and HART communication provides for remote programming, error monitoring and indication. The instrument is suitable mainly for temperature measurement of liquids in tanks and pipes and free flowing or lumpy solids, but temperature gauge for rooms is also available.
The PFA coated stainless steel probe makes measurement of very aggressive materials also possible. As special version of the unit a remote transmitter is also available which can be connected to a standard Pt 100 sensor through a simple 4-wire cable.
Application                                                           

Normal and explosive medium

Temperature indication and transmission

Signal transmission to large distances
---
Flow Meters
Smartflow has bouquets of solutions that automate the flow processes for facilities that deal with flowing fluids. Complementing this solution we offer a wide range of flow meters for different types of products and application requirements.
Fil-Rite Nutating disc Mechanical and Electronic Flow Meters
Size – 1 & 1.5 Inches

Application – Diesel , PETROL and Biodiesel

3 & 4 Digit Counter

Non Resettable Totalizer
Rotary Flow Meter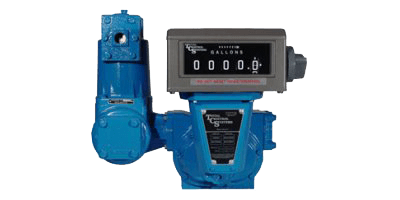 The TCS 700 rotary flow meter combines excellent accuracy with low pressure drop. The TCS 700 rotary flow meter has a compact size and lightweight design that offers minimal maintenance and long service life. This meter is built with advanced materials of construction for a broad range of measurement applications and is accompanied by a full selection of accessories and electronic registration.
The TCS 700 series rotary flow meter has a simple and efficient meter design consisting of a housing and three rotors that rotate in unison within the measuring chamber. The absence of wear, from no metal-to-metal contact within the chamber, eliminates any deterioration in accuracy and provides a long service life.
Specification
Flow:

 Capable of up to 1,000 GPM (3,785 LPM); Bi-directional Flow

Linear Accuracy:

 Capable of ± 0.15% of over the full flow range

Repeatability:

 Capable of 0.02% (constant operation conditions with 700SP meters & mechanical registration, using 1 CPS test fluid)

Viscosity:

 Will accurately measure liquids up to 1,500,000 SSU (325,000 CPS)

Temperature:

– 40 to 160°F (- 40 to 71°C)
---
Air Eliminators & Strainer
Smartflow also offers Bulk Plant Air Eliminators for variety of installations and conditions and designed for separation, elimination of air from main product.
Positive displacement meter of turbine meter, is a volumetric measuring device, cannot differentiate between liquid, air and vapour. So when liquid enters with air or vapour into this measuring devices, it will contribute the measurable error.
Large amount of free air or vapour entrapped in the piping system, not only compromising meter accuracy but also lead to over speeding of meter and creating excessive wear or unit failure to ensure accurate liquid.
Measurement is necessary to remove all air from the system before entering into the measuring devices. Hence bulk plant air eliminator is installed before the meter for accuracy of the measurement devices.
770 Air Eliminator & Strainer                 
A float and valve design senses and removes free air before it can enter the flow meter.
Required for custody transfer applications to ensure the most precise measurement.
740 Air Eliminator & Strainer 
An inline strainer and dual air eliminator for bulk storage facilities. A float and valve design senses and removes free air before it can enter the flow meter. Required for custody transfer applications to ensure the most precise measurement. Electronic air elimination also available.
745 High Volume Air Eliminator & Strainer                                     
An offset 90° strainer and air eliminator assembly designed for use in applications where a high volume of free air may potentially enter the measurement system. Recommended for mobile fuel delivery systems to pass product depletion (split compartment).
---
Level Transmitters
Level Gauges & Transmitters
Since its foundation Smartflow has focused on the supply of industrial level measurement products. Our focus has not changed, demonstrated by our wide level transmitter portfolio employing many different types of level measurement methods. Our Microwave, Magneto resistive and ultrasonic level transmitter selection is definitely the widest on the market offering integrated, compact, 2- or 4-wire transmitters for liquids or solids with remarkable number of optional choices with precision up to ±0.1 mm of tank height.

Ultrasonic Integrated Transmitter   
For liquid level measurement

2-wire integrated transmitter

Narrow 5° beam angle

25 m measurement range

PP, PVDF, PTFE transducers

32-point linearization

4-20 mA + HART communication

Open channel flow metering

Explosion-proof models, IP68


Magnetostrictive Transmitters                         
2-wire compact and mini compact transmitter

0.1 mm or 1 mm resolution

Max. 15 m measurement range

For liquids with min. 0.4 kg/dm3 density

Distance, level and volume measurement and water level At Tank bottom

Rigid or flexible probes

OIML R-85 international certification

Explosion-proof models
Guided Microwave Radar Gauge               
2-wire compact transmitter

TDR principle

±5 mm or ±20 mm accuracy

Measuring range up to 24 m

4-20 mA + HART communication

40 bar and +200°C

Rod or cable probes

Plug-in graphic display module
Float And Tape Type Tank Level Gauges                     
Float and tape tank gauges are suitable for almost all liquid storage applications and tank types. This Liquid Level Indicator has been the primary liquid level measurement products used by the petroleum market for over 80 years due to their simplicity and cost.
No contact Type Microwave Radar Level Gauges 
25 GHz (K-band) measuring signal

2-wire compact transmitter

Accuracy up to ±1 mm

Measuring range up to 30 m

25 bar and 180°C

4-20 mA + HART communication

IP67 protection

Explosion-proof models
Servo Gauges                               
Servo Tank Gauge (STG) product line provides an intelligent system for high accuracy liquid level measurement. It also determines the interfaces between three liquids, specific gravity of these liquids and tank bottom. To enable accurate volume calculation, a temperature device is integrated using HART® protocol or a 3-wire spot temperature connection.
High Accuracy – The STG is able to measure level to an outstanding accuracy of +/- 0.7 mm.
Density measurement – The STG is also able to measure two interface levels, spot density and perform density profiling throughout the liquid.
---
Level Switches
The most frequent level instrumentation task is level control and limit level switching whether if the measurement medium is liquid or solid. This is the reason why SMARTFLOW focuses on level switches in addition to the level transmitters.
SMARTFLOW supplies the instruments that offer reliable level control and limit level switching solutions for most media from potable water to sewage, aggressive alkalis and acids, or free- flowing, powdered, bulk or granular solids.
Thanks to this very wide level switch selection we are able to provide suitable instruments for most level instrumentation applications.
Most of our level switches have explosion-proof versions (in accordance to ATEX and/or IEC Ex).
Moreover we offer suitable solutions for special requirements, for example the ship-building industry with a need for Germanischer Lloyd (GL), Det Norske Veritas (DNV), Bureau Veritas (BV) or SIL approvals.
Float Switches                             
Hermetically moulded, double chamber

Adjustable switch differential

20 m cable length

+50°C medium temperature

2 bar process pressure

Level switch from potable water to sewage

Low specific weight of the floating body

Fail-safe indication and pump control

Suitable also for tanks and basins
Conductive Level Switches                                   
Low cost level switch

Limit switch or differential switch versions

Adjustable sensitivity

Adjustable time delay

All wetted parts stainless steel

Compact and remote mount types

For liquids with min. 10 μS/cm conductivity

Rod probes up to 3 m
Magnetic Coupling Switches                                                 
Operation without power supply

Micro-switch separated from the process

All wetted parts stainless steel

Fixed or adjustable switch differential

Submersible versions

For liquids with min. 0.7 kg/dm3 density

Explosion-proof models

Marine approvals, SIL approval
Nivopoint Level Switch                                       
Operation without power supply

Reed switches separated from process

Stainless steel probe and float

PFA coated probe version with plastic float

Up to 5 switch points

For liquids with min. 0.4 kg/dm3 density

Multi-point level switch in closed tanks

Explosion-proof models
Vibrating Fork Level Switches                                     
For most liquids with min. 0.7 kg/dm3 density and max. 104 mm2/s viscosity & powdered solids with min. 0.01 kg/dm3 density

No moving parts

Self-cleaning for most mediums

Stainless steel and plastic coated forks

Rigid rod extension up to 3 m

Explosion-proof models

IP67, IP68 protection
---
Pressure Transmitter
NIPRESS pressure transmitters working in 2- or 3-wire systems convert pressure (input signal) to direct current or voltage (output signal) proportional with the pressure. The wide choice of models provides possibility to complete almost all relative or absolute pressure measurement tasks requiring different accuracy. Their design, high overload capability and the possibility to install the units in any physical position allows for a wide range of industrial applications.
Features                                                                   
Compact Size

Pressure ranges 0.6 to 400 bar

Gauge or absolute pressure versions

Fast output response

Stainless steel housing                       

High accuracy: 0.25% or 0.5%

Standard plug type connector
Application
Measuring of gasses, vapours and liquids

Overpressures and level measuring tasks

Pressure switching

Mounted on tanks, pipes or pressurized vessels